The Engineering behind the HP PageWide XL
If you love to know how things work, and have an engineering mind, you will enjoy this HP Whitepaper on HP PageWide XL Technology.  The most simplistic summary of why the PageWide is different than other printers is the print heads are fixed to a stable bar, and instead of the print heads moving during printing operations, the paper moves underneath the stable bar.  Less moving parts – one pass printing – faster print speeds.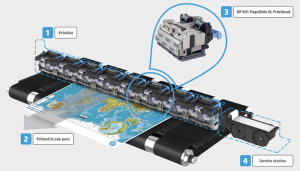 Isaac Newton was a genius.  But one of his defining characteristics that made him such a genius was not just his ability to understand complex physics, but his ability to simplify concepts so people that didn't have an educational background in physics could understand laws of the universe. HP has done just that with the HP PageWide XL printer.  The operation of the HP PageWide XL is simple – its easy to use, easy to understand, its intuitive to scan and copy, but it performs so many complex, automated functions during and around end user printing.  Like Isaac Newton, HP has taken complex engineering and made it simple for use.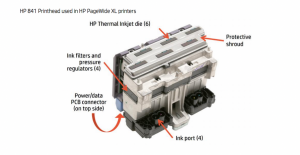 Some cool things to note about the printer: the modular print head technology that has been used for over a decade in HP web presses and HP Latex printer series was scaled into a 5.08 inch print head for the HP PageWide XL.  Eight print heads are stacked together to make a 40 in print bar.  The stable print bar provides consistent and precise spacing of 1 mm from the media to prevent striking and accurate dot placement. 
Some key service functions are automated in the PageWide printers.  The most impressive is the print head servicing: print heads are wiped by a web of absorbent material during the service cycle.  Simultaneously, every nozzle is tested by an optical drop detector mounted above the wet wipe cassette.  All print head nozzles – 202,752 can be tested in a minute and the error rate for failing to detect a missing drop is 1 part per billion- That is an impressive error rate! Another function of the print head is the nozzles are capped and this provides a humid environment to keep nozzles healthy and ready to print.  Media hold down and spacing is thanks to six perforated belts backed by three print platens that rely on vacuum fans to hold them in a precise place. This is all complemented with an Adobe rendering engine and it processes files at the printer which ensures the printer doesn't run out of data while printing.
This blog only highlights some of the manufacturing technology and engineering used in the HP PageWide XL printer – want to know more, check out HP's whitepaper. 
For more information about the HP PageWide XL contact info@lynnimaging.com or call 859-255-1021.