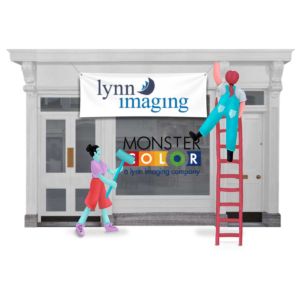 Lynn Imaging is a Construction Information Management company and high capacity printing firm that serves Kentucky, Ohio, West Virginia, Southern Indiana, and Tennessee.
Our company is built on the drive to serve our customers with the best customer experience in the industry. Our customer driven and intuitive technology solutions coordinate and simplify the management of project information. This results in accelerated project timelines, streamlined project communication and great quality for our clients.
These digital solutions are complemented by Lynn Imaging's full suite of printing, copying and scanning services. In addition, Lynn Imaging is an authorized dealer of Canon Solutions America/OCE and HP large format printers, Xerox small format printers, and installs wide format equipment in client offices and job sites across the region.
With the ongoing demand for large-scale color printing, Lynn Imaging has a new division specifically to serve this need called Monster Color. From concept to completion, Monster Color's experts produce a wide range of products including wall, window and vehicle graphics, hanging and retractable banners, wayfinding, ADA signage, and standoff signage.
Historically, Lynn Imaging has been an early adapter to the newest technology offerings including high-speed digital printing, electronic data storage, and cloud solutions for information management. Lynn Imaging has been steeped in the construction industry for over 75 years. Our experts average over thirty years of experience with the company. We carry the knowledge of the industry and insight into customer needs which translates to peace of mind for our clients.
Lynn Imaging is active in the AIA, KAMP, IFMA, KSPE, KSHE, SMPS & many other industry associations. This community involvement allows us to better identify customer needs and aids us in taking a leading role in defining more helpful solutions.