Golf tournaments can be overwhelming and there is a lot that goes into it. Before you get stressed, we've got you covered. Here at Lynn Imagine & Monster Color we know the best tips to help make your next event top notch.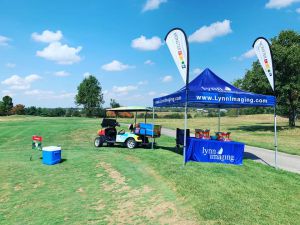 1. Branded Tents, Branded Tablecloths, Branded Flags, Branded…
Everything should have your logo and we make it easy for you. There are so many places you can have branding and we know them all, and even better, we print on all of them. We won't leave a single tablecloth unmarked.
2. Golf Carts
This seems obvious, but it's so important. Everyone will be watching where the golf carts go, making them a prime piece to add prints. Use them to your advantage and don't be afraid to get creative, let us spruce them up.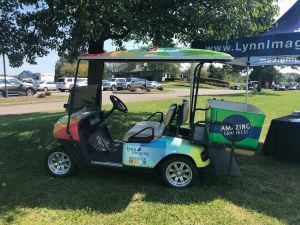 3. Directional Signs
Golf courses are big and can be confusing to sponsors who may not play golf. Use directional signage to help everyone along, and ensure that they are getting where they need to go.
4. Sponsor Signage
Sponsors play a huge role and you don't want them to go underappreciated. Print them large and print them proud. Highlight brands and companies that are a part of the event.
5. Don't forget about the people
Make sure everyone is happy and fed throughout the tournament, and, at the same time keep your branding alive. Here we did a full spread snack table with some other goodies available. As you can see our branding is still there for everyone to see
As you can see, there is a lot that goes into running a golf tournament and you don't want to forget a thing. Make sure you contact Lynn Imaging and Monster Color for all your needs and let us help you run a successful golf tournament.