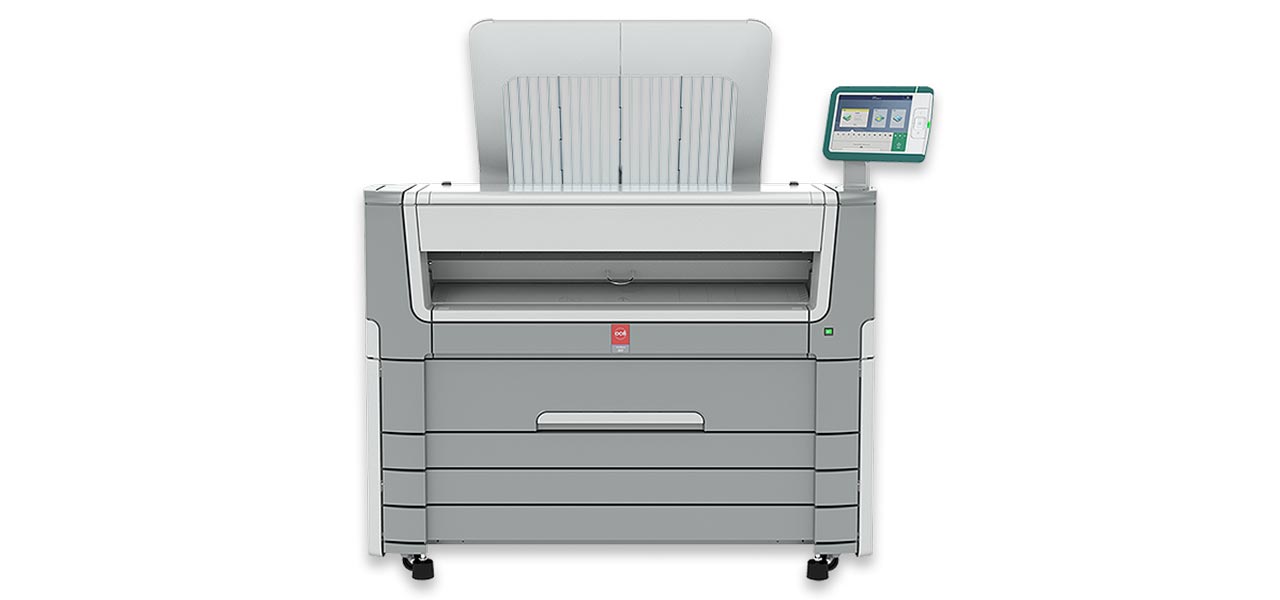 PlotWave 450/550 Printing Systems
Printer only or multifunction (print/copy/scan) system with integrated scanner
At a glance:
Integrated Top Delivery Tray (neatly collates and stacks up to 100 E-size plots)
Cloud integrated workflow option (scan to/print from cloud)
Proven Océ core technologies deliver unmatched productivity
Dual or optional quad roll media capability (up to 650 feet per roll)
Advanced security options
OCÉ COLOR IMAGE LOGIC TECHNOLOGY
Developed and patented with the objective that 99% of all originals should be copied and scanned with the right quality the first time without any operator intervention. This improves efficiency as the process of copying and scanning can be a very time-consuming task. Technical document originals, even if imperfect — including dark backgrounds, fold lines, wrinkles, or text — result in quality copies and scans the first time. New technologies!
OCÉ POWERSYNC CONTROLLER WITH MICROSOFT WINDOWS 8 EMBEDDED, 64 BIT
Engineered to handle complex operations efficiently, from enriched document previews to processing complex PDF files. The system is driven by a Microsoft® Windows® 8 Embedded platform, offering the latest security features to protect confidential documents.
SCAN TEMPLATES — CUSTOMIZE AND SAVE YOUR SPECIFICATIONS
In the daily scan workflows of enterprises, there is a strong need for the standardization of scan jobs for consistency. In order to increase the scan productivity even more, the Océ PlotWave 450/550 printing systems introduce scan templates accessible on the home screen of the Océ ClearConnect user panel. You can define up to 200 templates via Océ Express WebTools software. All settings available within the scan menu can be stored in one template and named for easy recognition (for example, original type, file type, resolution, destination, filename prefix, etc.).
ADVANCED SECURITY OPTIONS
Removable Hard Drive Removable Hard Drive Kit with option for additional hard drive to physically remove and lock away the system's hard drive. Access Management Require users to authenticate themselves via the Océ ClearConnect touchscreen interface or via a supported third-party Smart Card Reader. Disk Encryption Windows Bit Locker Drive Encryption provides data protection for the controller via a Trusted Platform Module (TPM) microchip. Both the TPM and the Bit Locker functionality used for data encryption are FIPS 140-2 level 1 validated.